Alon's Bakery & Market is an award-winning restaurant, providing high-quality artisan baked goods and cuisine since 1992. The namesake of Executive Chef/Owner Alon Balshan, Alon's Bakery & Market has two locations in Morningside and Dunwoody with catering options available across metro Atlanta. Offering customers a unique atmosphere that emulates the authentic feel of a European market, Alon's Bakery & Market is known for its high-quality, made-from-scratch selection of baked breads, European-style cakes, handmade pastries, gourmet sandwiches, freshly prepared foods, fine cheeses, exquisite chocolates and more.
Alon's dream of owning his own bakery became a reality with the help of his father Maurice, when he opened the first 1300 square foot location of Alon's in the Virginia Highland area of Atlanta in 1992, on a shoestring budget. Passionate about rich flavors and superior quality, Balshan only chooses the freshest ingredients, from the seasonal produce to the unrivaled chocolate. Alon's expanded the original location in 2000 for the first time, and in 2004 Alon's sweet success prompted the bakery to expand their repertoire with a market offering a gourmet selection of freshly prepared deli items including soups, sandwiches, salads, breads, artisan cheeses and wines. Then in February 2008, Alon opened his second location in the Dunwoody area of Atlanta, which encompasses over 11,000 square feet. Alon's in Dunwoody offers the same great offerings on a larger scale to include an exciting dining experience with a beer and wine bar, a wood-burning oven for artisan style pizza and a fabulous expansion of the catering offerings. Alon's Bakery and Market has now become a one-stop shop for everyday gourmet foods and the best place to shop for holiday favorites. 
Today, Alon's Bakery & Market is proud to partner with local businesses to provide wholesale offerings and catering for company events, residential gatherings and clients' celebrations. You can find Alon in his Dunwoody location on most days, continuing to create unique delicacies for his customers. As Owner and Executive Chef of Alon's Bakery & Market, Chef Balshan brings his vision to life everyday by providing high-quality ingredients and handmade products to his customers at both locations. Chef Balshan oversees managerial duties as well as works closely with his staff to create new menu items and perfect current offerings on a daily basis. He constantly looks at new ways to surpass customer's expectations with his countless offerings available at both of the restaurant's locations.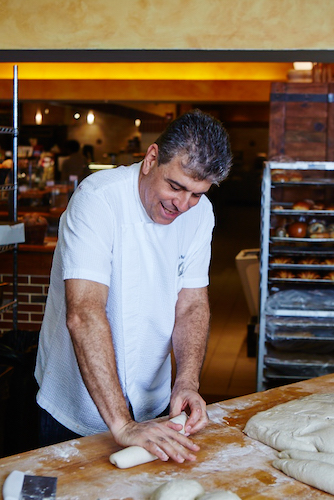 Meet Alon
Pastry Chef and Owner, Alon Balshan is an Israeli native who has developed a love for baking and cooking from a young age. The combination of his passion with his entrepreneurial spirit allowed for Chef Balshan to set his sights on opening his own bakery someday. After serving in the Israeli military, he began to pursue this goal by attending Tadmor Culinary School in Israel. He worked his way through European bakeries and hotels until about the age of 25 when he decided to immigrate to the US in 1986. Alon arrived in New York City on a one-way plane ticket with only $500 dollars in his pocket and a backpack. He soon found a home in Atlanta, where he received a position as a pastry chef with Engelman's Bakery, a wholesale bakery making Old World bread and pastries. He then moved on to work at Murphy's in Virginia Highland as a pastry chef. After marrying Georgia native, Janine, and becoming a father to Georgia born daughter Lily, Alon never looked back.