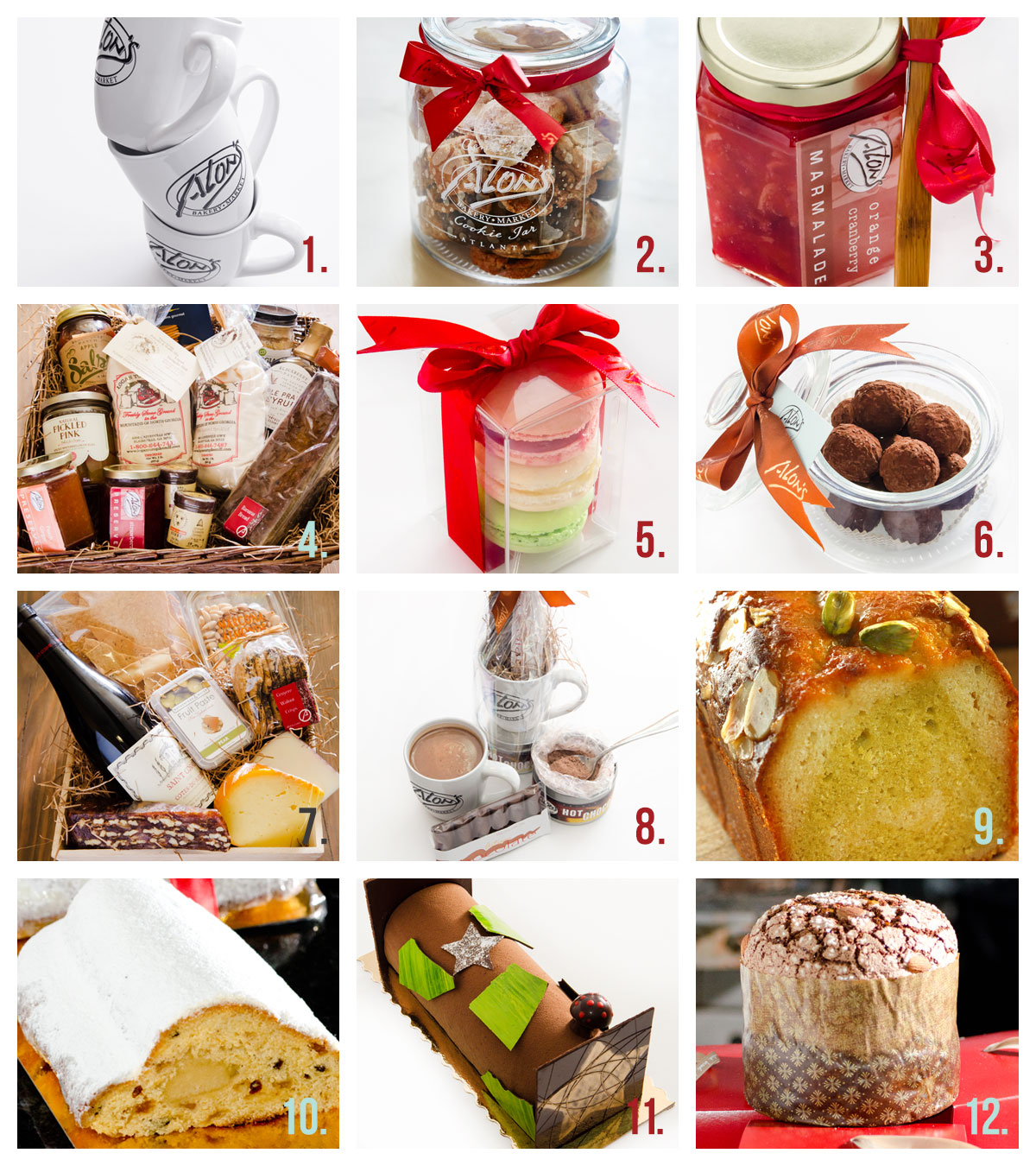 1.
Alon's Mugs
Our mugs are great for hot tea, coffee or hot chocolate during these cool winter months, available for $6.99. 2.
Cookie Jars
A delicious assortment of your choice of cookie bites packed in a refillable glass cookie jar. 3 lb. Cookie Jar – $49.99 | 4 lb. Cookie Jar – $64.99 | 1.5 lb. Cookie Jar – $34.99 3.
Alon's House-Made Preserves
Enjoy our homemade preserves with accompanying bamboo spoon, available in a variety of flavors for $13.99. 4.
Georgia On My Mind
This gift basket features a taste of the South including locally made snacks and treats such as Blackberry Patch salsa, Logan Turnpike Mill grits and pancake mix, our homemade banana bread and so much more! Standard: $80/Deluxe: $125 5.
Macaroon Box
One of our specialties and a truly elegant gift, our macaroon boxes are available in 3, 8 or 16 pieces and feature homemade French almond macaroons made with real fruit, nuts and fruit confections. 16 piece – $26.99   |   8 piece – $15.99   |    3 piece – $7.99 6.
Truffles Jar
Hand rolled chocolate truffles made with a Belgium chocolate for $24.99. 7.
Cheese and Wine
This basket includes a carefully selected bottle of wine and fabulous imported artisan cheeses, surrounded by our opulent selection of flavorful crackers, cookies & nuts. In accordance with Georgia law, we are unable to deliver this gift basket. Only available for pickup. $75.00 8.
Too Hot for Chocolate
Alon's hot chocolate and house‐made marshmallows for $24.99. 9. 
Assorted Pound Cakes
Enjoy two holiday flavors, Orange Spice or Lemon Pistachio available for $16.99. 10.
Stollen
A very buttery and rich German fruit coffee cake with golden raisins, candied fruit and soaked in rum. Plain – $16.99 / $23.99     |    Marzipan‐Filled- $17.99 / $25.99 11.
Bûche de Noël
Cinnamon Pistachio, a Ceylon cinnamon Bavarian cream, with a creamy pistachio center, on top of a sponge cake soaked with vanilla bean custard, atop a gingerbread crust. Made to order. Please allow 24 hours for orders. Serves up to 10 – $42.99 or serves up to 20 – $74.99 12.
Panettone
Made of only natural yeast and the best quality Italian imported candied orange peel, then fermented 36 hours. You must try it to understand how wonderful it is for $24.99.